Looking back at some of my most meaningful work over the past few years in celebration of finally reaching 100,000 views! Thanks to Behance for being such a great medium for sharing projects, and to the creative community for all the amazing comments, views, and likes. It really means a lot, please enjoy checking out this selection of images that I think have been the most interesting and important so far in my career. 
Sanctuary

, created for an exhibition entitled "Swallowed by the Jungle", envisioning a world where nature has reclaimed modern civilization and exotic animals have emerged from their enclosures to inhabit the new wild spaces.
Floating World

, ongoing project exploring the impacts of climate change on the planet, and the impending issues of sea level rise in coastal cities around the world.
Slash+Burn

, was created in response to the growing issues of deforestation, industrial pollution, and the current administration's efforts to gut environmental protections. With this project I wanted to portray the costs associated with slashing regulations by showing what would be lost.
Water Protector

, created in solidarity with protesters at Standing Rock, ND. Inspired by the Lakota prophecy about a "Black Snake that would slither across the land, desecrating sacred sites and poisoning the water before destroying the earth."
Green City

, commission for the Nature Conservancy envisioning a prospective future that incorporates sustainable energy, green building, and conservation in the town of Collingswood, New Jersey.
Fifth World

, commission for a post-apocalyptic fantasy RPG. "The movement of biomass from ancient forests to the walls and furniture of sprawling suburbs will become some of the richest soil on Earth when they decompose, and from that soil, new forests will spring among the detritus of the suburbs."
Ultima

, a body of work that is deeply rooted in environmentalism, showing my concern for the future by depicting the ways in which mankind's creations have an impact on the planet. Primarily it is about the modern conflict between the manmade world and the natural world, and between contemporary and indigenous cultures. I portray this as an epic struggle and in my work these forces clash in theatrical, post-apocalyptic battlegrounds. My goal with this project was to create striking juxtapositions between the ruins of modern civilization and a futuristic ecological utopia. The narrative progression shows a rediscovery of these remnants belonging to the conceivably forgotten past.
Terra Incognita

, image created for Desktopography, inspired by the effects of climate change in the northern Arctic where melting polar ice caps, methane leaks, and plant and animal species migrations are creating a strange and unknown new world.
Megafauna

, image created for Desktopography, inspired by the extinct species of large mammals in North America such as the mastodon and smilodon that perished 10,000 years ago in the Pleistocene mass extinction.
Sumeru

, a body of work that metaphorically illustrates the mental journey that is undertaken in Zen Buddhist training and practice. In Zen literature, the word 'land' is commonly used as a symbol for the 'mind', and through a series of photographic montage images I have envisioned an exploration into the depths of this metaphorical 'mind-world'. The narrative follows a spiritual quest as the storyline symbolically wanders through various states of consciousness and perceptions.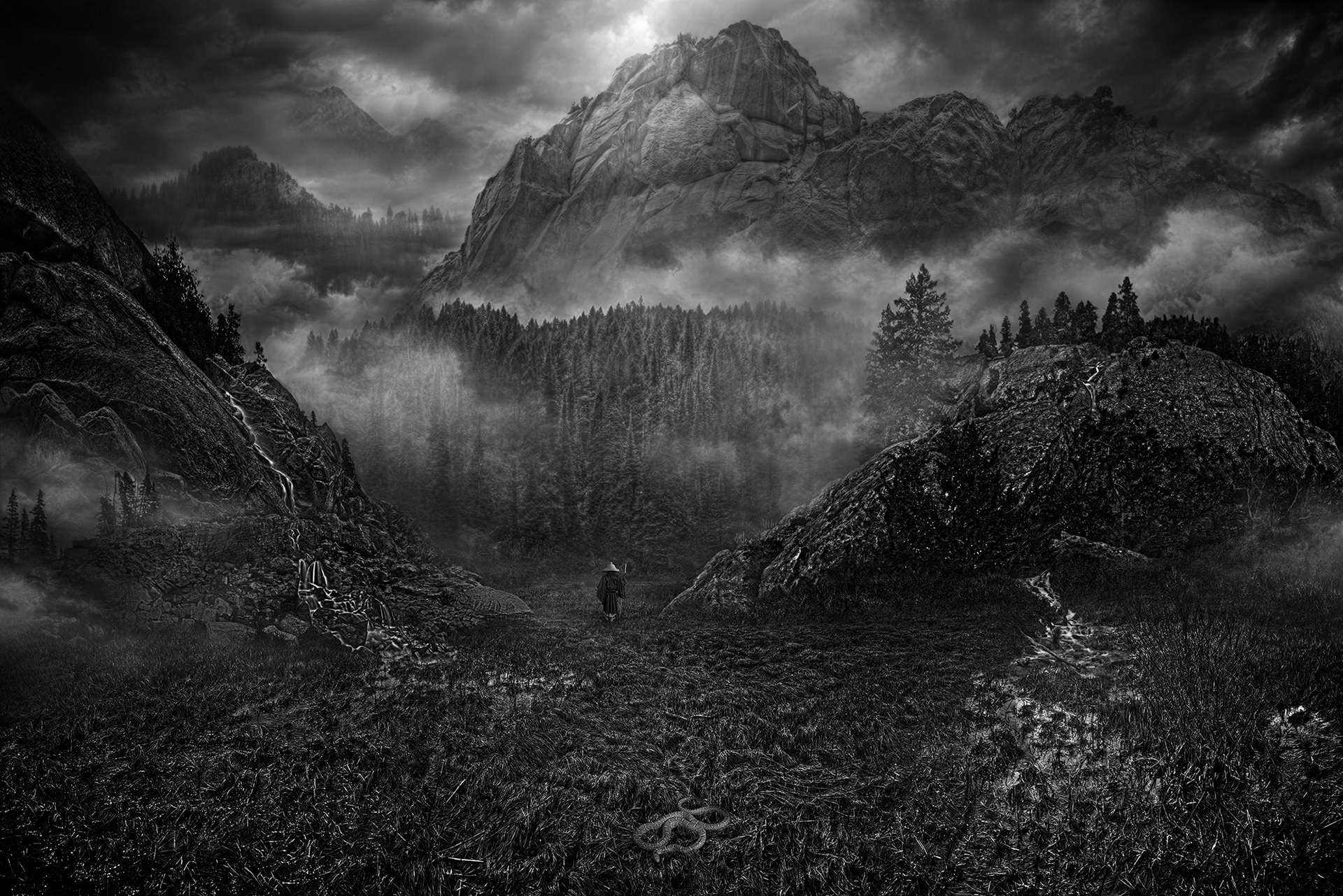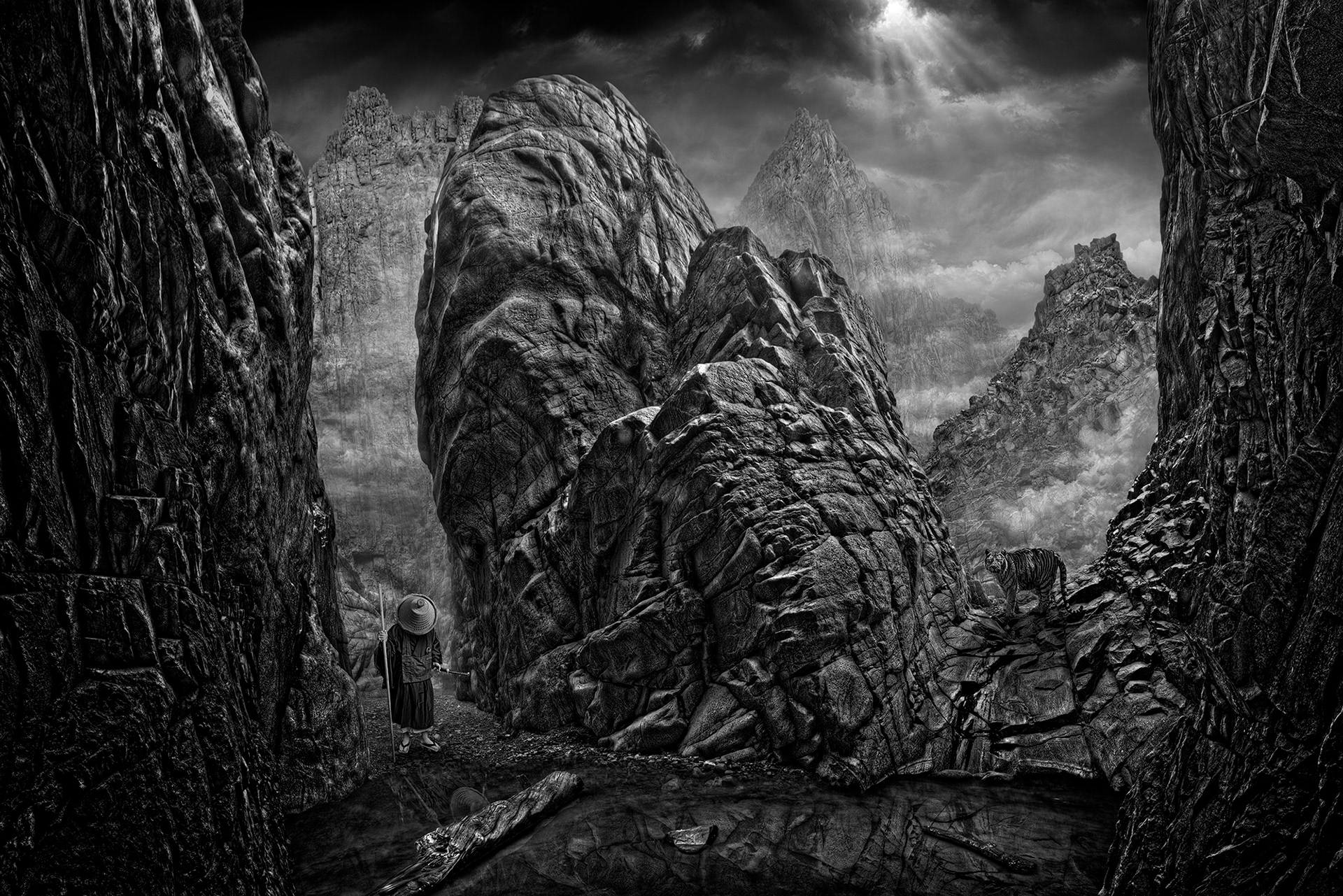 Migration

, is a body of work that was created as a response to the increasing issues of urban sprawl and deforestation that are destroying wild spaces. My images show a series of animals navigating through the ruins of industrial society in search of their missing homes.
Spirit Bear

, a new piece created in honor of Bears Ears National Monument, and to protest the current administrations efforts to significantly shrink Native American and public lands in Utah. This land is considered sacred to many southwestern tribes including the Ute, Zuni, Hopi, Diné, and Navajo, who are fighting this unprecedented attack on their sovereignty.
Guardian, an early project representing the modern struggle between nature and industry, in response to issues of deforestation that are displacing animals from their natural habitats.